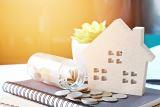 2022 Conforming Loan Limits
The Fannie Mae and Freddie Mac Conforming Loan Limits for California have a new high of $970,800 for one-units in ten counties. The other 48 counties vary from $647,200 to $897,000 for Napa. Two-unit maximum is $1,243,050, three-unit is $1,502,475 and four-unit is $1,867,275.
The highest limit for 2021 was $822,375 and the increase is due to home sale prices increasing significantly over the past twelve months. BTW, the new amount of $970,800 will apply to Reverse Mortgages. Time to refinance those Reverses. 
For a complete list go to this link.