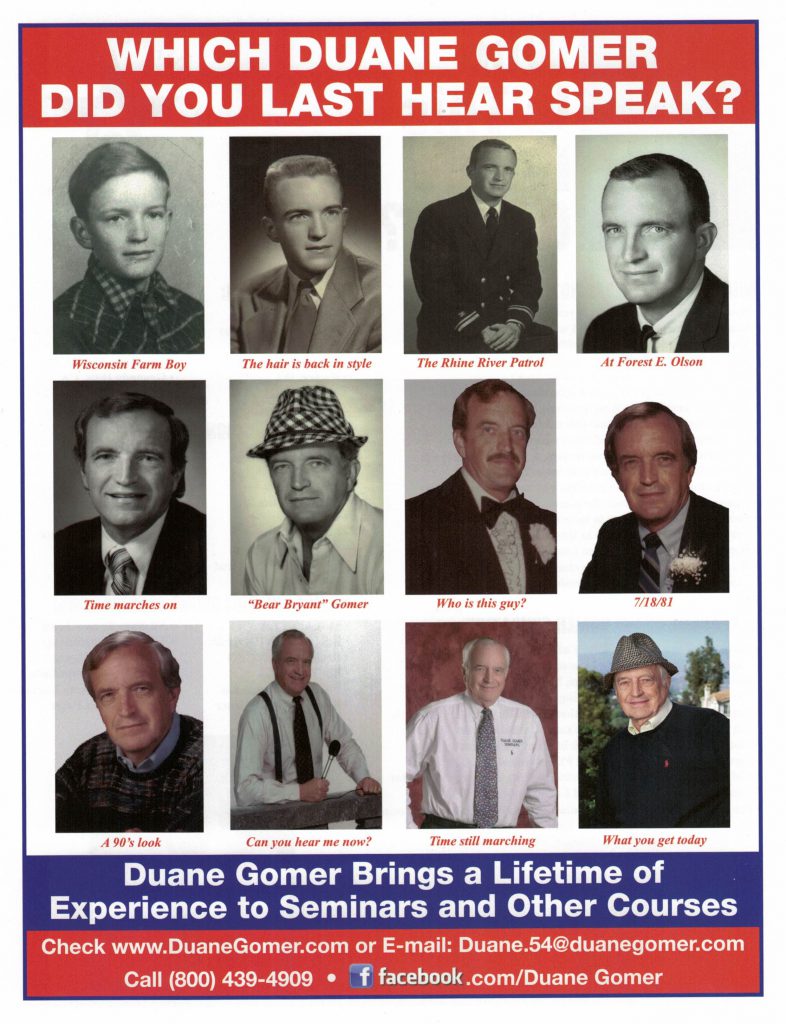 In The Beginning
In December of 1961 I received a Real Estate License from the California Department of Real Estate, Number 00257862. It is now December 2021 and I am still licensed and working. That is 60 years plus.
This journey started after I had received a BS from Indiana University, an MBA from UCLA, and served three years in Germany as a Navy LTJG. Then, I worked three years in Germany for the Air Force and returned to California in 1961 with no job in hand. 
Start of a Real Estate Career
I passed the Real Estate Exam, the Insurance Exam and the Securities Exam. The Real Estate License was obtained first. So I went to the Forest E. Olson Real Estate Headquarters at 13747 Victory, Van Nuys, CA. and told them that I wanted to sell commercial real estate. They said that I needed to show that I had enough assets to go six months with no income. I said that I could make it to Thursday. They said, "You have a Master's Degree in Management, would you be interested in starting a Property Management Department as an employee?" I asked, "When do you pay?" "Every Thursday" was the reply. So began my career.
After 16 months of Property Management I transferred to their Commercial Sales office in Canoga Park. I got very lucky and sold two apartment houses the first month and when they closed escrow three months later, I started my own Property Management and Syndication Company in Sherman Oaks.
I started slowly and built the clientele by teaching at UCLA in their night Extension Division at Anderson School for 14 years, writing a column in the Van Nuys Daily News, and speaking at any and all Apartment Association meetings and conferences. The office was moved from Sherman Oaks to Granada Hills to Calabasas Park. Duane Gomer Property Management Services was successful, but after 17 years I had grown tired of tenants and enjoyed students more.
Start of a Teaching Career
In 1978 the Department of Real Estate passed regulations that required licensees to complete Continuing Education. By this time I had tried Education Classes for Apartment Owners in vacation spots such as Las Vegas, Hawaii, and on Cruise Ships. It failed abysmally.
I went to a 1031 Exchange Course being taught by Richard Robinson. He was extremely magnanimous and helped me start doing Real Estate Continuing Education Courses. BTW, my Sponsor Number is 0054, the oldest number of any Sponsor with the exception of CAR.
The company was started in Calabasas Park in 1978 and moved to Mission Viejo in 1985. Still going today at 23312 Madero, Mission Viejo. Today, we have a staff of 10 and approximately 20 instructors. We do California DRE courses, NMLS Mortgage Loan Courses, and have been doing Secretary of State approved Notary courses. The courses are presented live, online, homestudy, and by webinar.  
At this time my wife and partner DJ and I see no reason for stopping. 2021 was a good year, despite all the challenges. That is in a very large part due to our marvelous staff, brilliant instructors and our wonderful students (present, past and future).
Thank you for your support and encouragement over the many years. See you around campus.