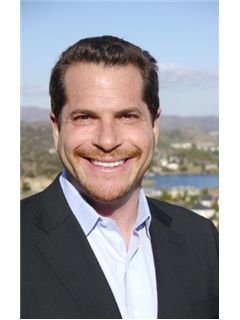 The subject:  Jordan Cohen of Westlake Village ReMAX Olson Associates.  Why the title?  He has sold homes for among others Reggie Bush, Pete Sampras, Marcus Allen, Kobe Bryant, Marilyn Manson, etc. etc. etc.
Seeing an article about Jordan/ReMAX Olson really brings back the old memories.  First, Jordan's parents were two of the nicest Real Estate people I have ever met, and I am sorry they hit the over 70 rule because it was a pleasure to regularly see them for renewal courses. Two stalwarts of his company are Todd Olson and Keith Myers. At my first job in Real Estate at the Forest E. Olson Company, I worked for Todd's father, Carl Olson, a fine man who used to show me pictures of his young son. I first saw Keith as a 12 year old Little League shortstop. Then, later he was "friends" with a girl friend of my daughter Debbie, so I saw him again. Athletically, he became a Division One QB.  Also, when I needed to list a house in the San Fernando Valley years ago,  I successfully used Keith as the agent.
It was my pleasure for years to traipse up to Tampa and Rinaldi and hold seminars for their company.  Pleasant memories. 
Jordan was an outstanding quarterback as a 9th grade Pop Warner player on the Northridge Knights who then played on my San Fernando Valley All-Star team. It is amazing over the years to see people I coached move on; Tom Ramsey, QB on the NE Patriots; Darren Daye, forward on the Boston Celtics; Donny Tringali, Harvard Lawyer; Dave Baldwin, Head Football Coach on a Division One team; Darrel Cias, catcher on the Oakland Athletics; and those I coached against like Charlie White, Heisman fame; Jeff Fisher, coach NFL teams; Tim Leary, pitcher with the Dodgers; Dennis Smith, all Pro Safety; and all the others who might not be a familiar name but who became outstanding citizens, outstanding parents, and outstanding friends.