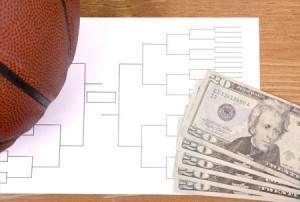 My daughter presents a 60-70 person bracket contest.  Amazing results so far. 
The first two days a contestant picked 30 out of the 32 games correctly, even with all the upsets.  I had 27 out of 32, and thought I had done well.
During the next two days contestant number one found out that "Fame is Fleeting" as he dropped to fourth place. I went only 11 of 16 so I am still up the track in 7th place.  A well known Mortgage Broker, both forward and reverse mortgage maker, named Paul Scheper is in 1st place, picking 40 out of the 48 games, and he is tied with my daughter's Aunt Nancy Stretti from good old Racine, Wisconsin – Washington Park High School.
Fortunately, I still have my final four intact with Michigan State, Gonzaga, Arizona, and Kentucky.  Also, I have 7 of my final 8 still on board with the only loss being Kansas.  Wichita State would have been a good pick, but I picked them to go all the way last year as they were undefeated so I was not eager to pick them to beat a number two seed this year.
How are you doing?  See you in Naptown.