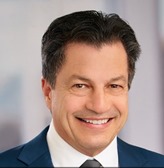 Yelp Review
Yelp noted that I had asked a question about Reverse Mortgages researching an article. They sent me an alert that I might be interested in a couple posts. They sent a photo and the two recommendations.
They were right. I know that man. Met him in 1958 in a hospital in Wiesbaden, Germany. Way to go David. You can get more information at SeniorFunding.com or call me at 949-457-8930. I would love to talk to you.
BTW, I have always said that a Reverse Mortgage Line of Credit would be a positive move for someone who did not need a RM at this time. It would be good to have in case of any chaos. I think we are having one of those chaos things at this time.
Recommendation #1
I'm a 91 year-old WW2 Vet. I got a reverse mortgage several years ago, before my wife passed. We had been married for 63 years. Several months ago I decided that I needed to get a larger reverse mortgage, but I really didn't know how to do that.
I received an advertisement from Dave Gomer, and it looked nice, so I called him. I told my daughter and son-in-law about the advertisement, and they were very skeptical and told me to be careful. So I asked my son-in-law to be with me when I talked to Dave.
It has been several months since the new reverse mortgage closed, and I want to tell everybody that everything that Dave told me was the truth, and he was really great to me. I think he's a great guy. If anyone reading this is looking for someone to help them with a reverse mortgage, I highly recommend Dave Gomer.
Thank you.
Recommendation #2
Dave Gomer at Senior Funding Associates did a great job. My 91 year-old father-in-law was in need of changing/adding to his reverse mortgage. Dave drove a long way to get to my father-in-law's home in Mission Viejo.
My father-in-law told me he'd be more comfortable with me there. I was very impressed with Dave… but of course at that point being impressed wasn't all that important.
Now that it's been some time since the process was completed, now the fact that I'm STILL very impressed is VERY important. And most importantly, my father-in-law was and is really happy with all the service that Dave provided.
I can tell you that I feel totally comfortable referring to Dave Gomer, and I'll even leave my own name on this email to back that up.
Dr. Rod Kurthy.