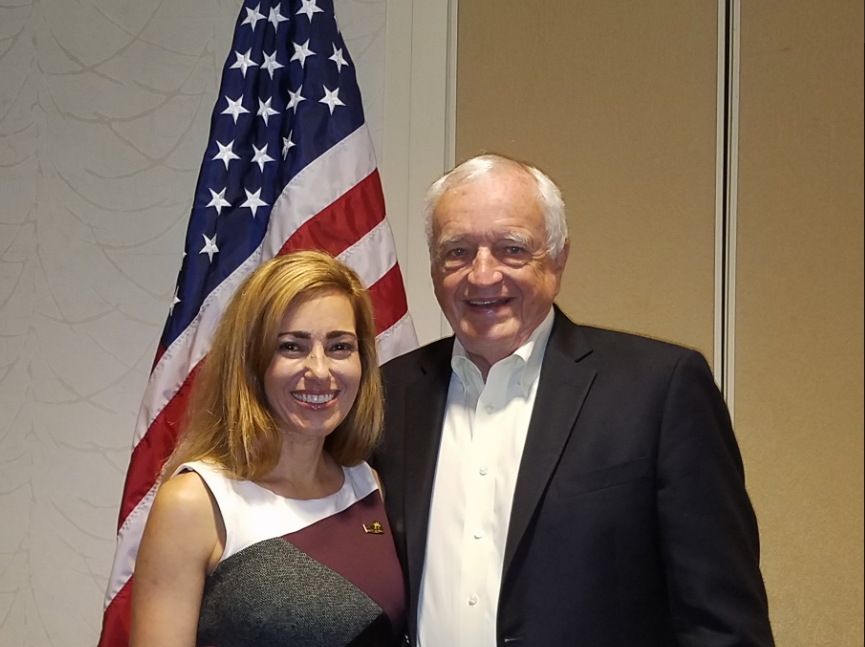 This Is Karen Bates, President Of The California Association Of Mortgage Professionals
The other fellow is a person who spoke at her Annual Conference the first week of August in really beautiful Coronado. Thank you CAMPers for hosting the affair.
Karen was installed as President at the function. She is owner with her husband Ken of Military Loans, an outstanding San Diego firm that specializes in VA loans and helping Veterans in every way.
Karen was a Navy Wave for many years working as an Air Traffic Controller. When she finished her service duty, she became a CPA and is now a top-producing Mortgage Loan Originator.
In July when I had some complex Veteran Administration Loan questions, Karen was extremely helpful and gracious with her time. She knows the subject. Whether I have a question on lender overlays or Tidewater Appraisals, she has the correct answer.
The Conference Was Excellent
There was panels on Government Affairs, New Products for the Industry, Fannie and Freddie, Top Producers and Newbies, Keynote Speaker Corey Minor of Notre Dame and NFL fame, and I did a short talk on Networking, Education, and Relationships.
The lunches at the Marriott were way above the average for Conferences, and the view of the Bay is remarkable. And when they throw a Happy Hour and an Installation Dinner, they throw one.
One Item To Compliment
When I go to Conferences or Expositions, there never seems to be enough time to attend all the educational offerings and visit the Vendor Exhibits. Many hosts forget that the Vendor/Sponsors are paying "good money" to show their wares, and the hosts put on so many educational offerings for their members that the Exhibit Halls are empty and boring. Unhappy vendors, less income next year.
CAMP had the Vendor Area open for four hours on Monday afternoon with no educational offerings at that time. The Expo was busy, the Vendors were happy, and all was fine in Coronado. The Vendors were in and out and met a lot of prospects. The last two hours were a Happy Hour and that was enjoyed by everyone. This does increase the noise level but all for a good cause.
Congratulations CAMP
Onward and Upward with Karen and President Elect Dawn and let's not forget Immediate Past President Scott.
See you next year again, and I want to thank all of you for your contributions in so many ways to the success of Duane Gomer's MLO LIVE CE Classes.
You are the best.