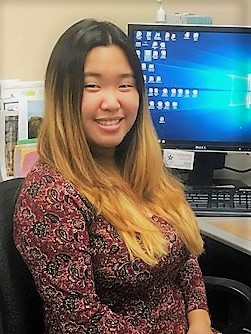 This photo is of Jocelyn Sy, 2016 graduate of the respected Soka University, and now a valued Registrar at Duane Gomer Education. I am delighted to announce that she passed the State Real Estate Exam with flying colors two weeks ago.
In Our Company, Everyone Who Has Been here For Over A Year Is Licensed In Real Estate
We really encourage that they do so. We believe that if they do the courses and pass the exams, they can better understand and answer student questions.
They have been there in a room in La Palma getting ready to hit the key to submit their answers to the State Exam and knowing that they will have to come back to the office and to their home and to their friends and tell everyone how they did. That is pressure.
So Far, Our Staff Has Never Failed One Of The Exams
We have three newbies who are starting on their courses, so we hope to keep up this record and I sincerely believe they will.
What Did Jocelyn Report?
She had way more than enough time for the 150 multiple questions, finishing with about 45 minutes to spare, after reading all the questions more than once. There was no math on the test this time. There were many questions on Finance and related topics. She found the practice exams in the Crash program review very helpful and went over them regularly.
We Recommend That If Someone Takes Our 1-Day Crash And Still Does Not Feel Ready, Take The Course Again For Only $20.00.
Jocelyn took this to heart and took the Crash Course three times with three different instructors. She was ready.
We Are Most Fortunate To Have Someone Of Jocelyn's Character And Work Ethic Working For Us
She handles the Crash Program and works with me on these Emails and Facebook. She is a real asset as she types a legit 105 words a minute. Amazing to watch.
Congratulations, Jocelyn; well done, we are very proud of you.