The Monthly Statistical Update (MSU) keeps agents and brokers current on the market trends affecting California real estate transactions.
This month, we're covering:
the rising Federal Funds rate, which is directly causing adjustable rate mortgage (ARM) rates to jump in 2023;
rates on mortgage insurance from private insurers contrasted with the FHA, making mortgage borrowing even more expensive for homebuyers lacking a full 20% down payment; and
values and returns on real estate investment trusts (REITs), which have plunged following the rapid pandemic-era price hikes.

Download the Monthly Statistical Update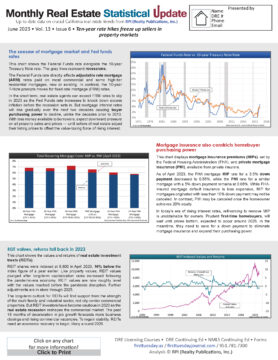 Download the customizable PDF version of the June 2023 MSU to share the latest market stats with your office and clients.
Plus, download Adobe Acrobat Reader to personalize this MSU with your image/logo and contact info — free!