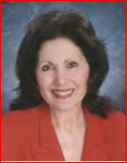 Our success as a company is based on one important factor: We have outstanding instructors in all different topics.
Minnie Lush
Today, I want to highlight a special one, Minnie Lush.
Minnie has been doing seminars for DGE for many years. The students adore her, the hosts admire her, and our staff loves her. She is simply the best. It's always a relief to know Minnie is scheduled.
Bio
The following is a bio that was filed with CFPB to qualify Minnie as a Mortgage Loan Originator course instructor.
Minnie Lush, B.A, GRI, ABR, Realtor, Real Estate Broker, Author and Lecturer. California Association of Realtors Master faculty member, Burbank Association Realtor of the Year, and is acclaimed as one of the finest real estate speakers and trainers in California. She has been interviewed on radio and television and is a sought-after guest speaker for major corporations.
Passionate about education, Minnie lectures in the Graduate Realtor Institute GRI designation program, has taught at Los Angeles Community College, Azusa Pacific University, owned and operated a chain of real estate training schools, and is the author of the California Real Estate Exam Guide (Kaplan Publishers), and California Real Estate Finance. Both textbooks are used by many California Colleges and Universities.
There's More
Additionally, Minnie has served as President of the Burbank Association of Realtors, chaired many of its committees, and is currently a volunteer member on the Board of Directors of the Burbank Housing Corporation, a City corporation that works to provide newly remodeled housing for low to moderate income families.
We could go on and on but you get the idea. When you register with our company, you might be assigned Minnie as an instructor. Be aware that you are being educated and entertained by a true polished, articulate, super-knowledgeable, industry savvy professional who is considered a legend and an icon in California Real Estate education.
We are blessed and fortunate to have her exclusively instructing for DGE.