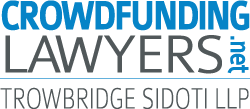 I Cannot Recommend Any Firm More Than Trowbridge Sidoti LLP
Known them for years and they are the number one go to authority for me for Group Investments, Legal, Crowd Funding, Syndication, etc.
Take a listen, you will be glad you did. BTW, Gene is considered by all the best ever and Jillian is a rising rock star. Let's post afterwards and compare notes..
Break a leg Jillian.
NEXT WEEK!!!
Jillian Sidoti
Doing a Rockin' Investor Presentation Private Money Rockstar Series
A **LIVE**  Encore  Episode
THURSDAY OCTOBER 18, 2018
Noon Pacific TIme
What are we going to cover?
Likely you don't know what an investor needs/wants/should hear. This webinar will teach you all of the techniques you need to make sure your presentation is not only legal but highly effective.
REGISTER NOW
THIS WEBINAR HAD A PACKED ROOM LAST TIME AND
WILL AGAIN!
Grab yourself a spot.
Yes, this will be available to purchase down the road, but why pay for it later when you can attend now for FREE?